Social program - Thessaloniki film tour
Stories from the city and the cinema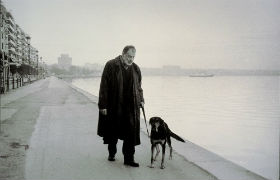 The Thessaloniki film tour will take you to more than 15 spots in the city centre, where a great number of Greek and foreign films, both fiction and documentaries, were shot. You will have the opportunity to visit the most important film landmarks of the city that play a significant role in its cinematic history throughout a century.
In a two- hour guided tour, which will start from the city's emblem, the White Tower, and will continue along the seafront, you will visit film locations and venues in the city centre that are strongly connected with the cinematic images of Thessaloniki.
The film tour is the first of its kind in Thessaloniki and is both entertaining and educational. It includes visits to memorable locations and film settings, which are linked to Thessaloniki's rich film heritage, such as the Thessaloniki International Film Festival's venues at the city's port, the Olympion Theatre and the Museum of Cinema. The tour promises to guide you in a fascinating journey through stories from the city and the cinema, which will reveal Thessaloniki's prominent role as a welcoming place for film lovers as well as a locus of a genuine film culture. 
The tour is a novel way to discover Thessaloniki from the director's chair, as you take part in an intriguing experience, which allows you to see the city from a cinematic point of view. Get yourself ready to discover the places and the people behind the stories of a city that really loves cinema and be a protagonist in one of the most promising settings of Thessaloniki: the city's port, where the tour ends.
The walk will include plenty of opportunities to take photos as well as to consult our experienced guides about the city's film history, with interesting behind the scenes facts and trivia.
The film tour will start from the city's emblem, the White Tower and it will finish at the Museum of Cinema at the city's port.
The Thessaloniki film tour is designed by Lina Milonaki (journalist, film historian, Dr in Film Studies) and Yannis Grosdanis (journalist, film critic) and it is accompanied by professional guides.